[Protecting Yourself Going Forward]
∙ Anecdotal Observations ∙
The fiasco called COVID is ongoing, the next pandemic is already on its way, and the sick-care system is falling apart! Jabbed or not jabbed, everyone is vulnerable to agents imposed by vaxx and shedding of vaxx agents by those who were vaxxed. Here is what you can do to protect yourself going forward.
This short report will help readers better understand the concept called terrain and it will help people avoid misdiagnosis and entrapment in the sick-care system. Included are specifics [with links] for caring for yourself. To learn more, read on.
Overview
The terrain is the game! Your terrain determines body response to everything from so-called COVID, to COVID vaxxes, and COVID agents shed by people who got vaxxed.
Symptoms of dis-ease are preceded by neglect and abuse of the terrain, meaning failure to care for yourself. It's the way it is! Few people realize that dis-ease is NOT the same as disease, and that your terrain dictates how your body responds to foreign agents in vaxxes and agents spread from human to human through shedding of vaxx agents.
Terrain response to vaxxes is a reaction response, NOT an infection response! Vaxx agents are ASSAULTS on the terrain whether the agents derive from the vaxx itself or from shedders who got vaxxed.
Immune over-response and production of spike proteins can be mediated and neutralized by restoring your terrain. Symptoms of dis-ease no matter the source are terrain responses.
Your liver controls terrain metabolism. It also orchestrates immune response to agents of dis-ease. Urine pH measures circulating hydrogen-waste levels, and it provides a unique, cost-free glimpse of what is happening inside your body. [Use the Terrain pH Protocol to monitor and manage your terrain.]
Symptoms of degenerative dis-ease ALWAYS involve a compromised liver and dysfunctional physiology. For example, Metabolic Syndrome haunts the entire populace because insulin/leptin-resistance haunts the entire populace. Both are metabolic disorders, both are forerunners of clinical diabetes, both fuel fatty-liver dis-ease [steatosis], and both precede diagnosis of CANCER!
Metabolic disorders can be avoided and can be reversed with guidance and cooperation. Metabolic disorders are what is wrongly referred to as clinical disease. DIs-ease is NOT the same as disease.
Low-grade inflammation is a symptom of dis-ease in slow-motion. Contrary to urban myth and medical folklore, inflammation DOES NOT cause disease. Patients and practitioners wrongly blame inflammation for their pain and misery.
So-called autoimmune disorders are examples of immune system overresponses to blood invasion of foreign proteins due to maldigestion of food, a compromised gut wall [leaky-gut] and assault by vaxx.
Contrary to myth, the body NEVER ATTACKS ITSELF! Contrary to myth, vaxxes DO NOT IMPART IMMUNITY. Contrary to myth, foreign proteins in vaxxes DO NOT BELONG IN THE BODY!
Terrain Management & Self-Care
Vironxx: boost immune response and mediate vaxx and shedding related issues. Read more here.
Terrain pH Protocol: manage terrain acidity and reduce terrain inflammation. [FREE] Read more here.
Insulin/Leptin-resistance: forerunner of cancer, diabetes, cardiovascular, and arthritis. Read more here.
Glyphosate Trio: clear your liver and tissues of glyphosate residues, now! Read more here.
Biologic Glandulars: glyphosate-free, bioactive organ meats for boosting lifeforce. Read more here.
Digestion Trio: maldigestion of food is an ongoing problem for everyone over age 40. Read more here.
Fermentable Fiber: make B-vitamins by fermenting food in your colon. Read more here and here.
Enema Protocol: mediates suffering and aging and neutralizes symptoms of dis-ease. Read more here.
Wi-fi Exposure: neutralize electrical assault of physiology and vital organs. Read more here.
Magnesium Ion Insufficiency: an ongoing challenge for everyone. Read more here and here.
Youthing Formula: moves magnesium ions into cells for production of energy. Read more here.
Essential Elemental Ions: critical for health especially for those forty-years and above. Read more here.
UltraBlue: boost nucleic acids, mediate spike proteins, boost oxygen/hemoglobin. Read more here.
Biologic Saponins: degrease fatty-liver/gallbladder; mediate Metabolic Syndrome. Read more here.
Mycro-Crystalline Matrix: grow bone/connective tissue; undo skeletal degeneration. Read more here.
Tissue & Liver Protocol: the ultimate, terrain-restoration protocol. Read more here.
VZ II & NVT: breaks-down systemic scar-tissue, and brain and arterial plaques. Read more here.
Adrenal Magic: avoid stress and adrenal overload; keep your feet on the ground. Read more here.
Metabolic Magic: stabilize metabolism and support key vital organ functions. Read more here.
Jurassic Magic: heavy metal extraction using activated Jurassic Era carbon. Read more here.

[This video documents risk associated with all-things vaxx.]
Guidance is available without cost!
Email or Call John Thomas, today!
JohnThomas@YoungAgainClub.com or 509 465-4154
A Better Way

Abundant energy and a pain-free body can be yours. Special Insights™ from Young Again Club helps you enjoy a better life. To learn more, click here.

If you have not read Young Again! you should. If you would like a copy of the book, click here.
Personalize Your Program Young Again Club members enjoy personalized service and programs designed for each individual. To contact John Thomas, click here .

If you found this information interesting, forward to a friend. To access all issues of Special Insights, click here.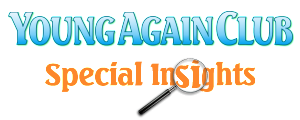 John Thomas, Author Young Again!
509-465-4154

SpecialInsights@YoungAgainClub.com
www.YoungAgainClub.com
Privacy Policy | Disclaimer |Terms & Conditions of Use
Young Again Club™ | Special Insights™
www.YounAgainClub.com | SpecialInsights@YoungAgainClub.com
P. O. Box 1240, Mead, WA 99021
Phone 509-465-4154 | Fax 509-466-8103