How The Icelandic Dietary Mystery of 1820
Paved The Way For Better Health &
A Longer Life Today!
Order a FREE bottle of Icelandic Magic and find out why John Thomas is so, excited!
Soon, you will receive the amazing saga of Viking Iceland and the story behind, Icelandic Magic!
What happened in Iceland in the 19th Century is a fascinating story of forfeited health and truncated longevity among people who had previously lived in good health for 1,000 years!
Iceland has a unique dietary history with a legacy to benefit millions of people in the 21st Century. Strangely, the cause of Iceland's demise in 1820 provided a remedy for improved health and longevity for humans, today.
Symptoms of Iceland's saga are with us in disguised and muted form, but we have a new way to protect ourselves and our families. Who would have guessed Viking Iceland held a powerful, medical legacy?
Iceland's story is a medieval puzzle spiked with medical blunders! The story merges seamlessly with modern, medical, ignorance and arrogance so prevalent, today. And, of course, big pharma lurks in the shadows.
Iceland's fall from health to disease was hard to understand, until now! Please share it with friends and family so they, too, can learn how to care for themselves and avoid suffering and disease.
Iceland's mystery needed 100 years to ferment and ripen. Below is a brief list of topics to be examined and knitted together in this exciting report. Topics may appear disparate, but I can assure you, they fit together perfectly! These topics have everything to do with Viking Iceland of old and a disease-free life, today!
Food, cellphones, stroke, anaerobic bacteria, radiation, Vikings, homocysteine, drug resistance, misdiagnosis, cellphones, mal-expression of genes, vaccinations, wasting disease, statin drugs, heart disease [arrhythmia, A-fib, blood pressure and mitral valve], cholesterol, sulfates, dementia, brain tumors, heart attack, diabetes, MTHFR, Lyme disease, fatty liver, Alzheimer's, medications, organic chemistry, cardiovascular disease, germ theory, epigenetics, DNA, evolutionary biology, methylation, dietary habits, and a lot more.
The upcoming report on Icelandic Phenomenon took years to compile and piece together. John Thomas trusts readers will print it and read it in its entirety. Your author did his best to simplify the content, smooth the flow of information and provide links for inquiry. The importance of maintaining good health cannot be overemphasized, and knowing how to care for self and family outside of the system is, priceless.
Icelandic Magic is a game changer! Find out for yourself!
Watch your email. Details of John Thomas' 25 Year Anniversary offer for a FREE bottle of Icelandic Magic follows close behind your receipt of: The Icelandic Medical Phenomenon. Enjoy!
Personalize Your Program
Young Again Club members enjoy personalized service and programs designed for each individual. To learn more, click here.
If you found this information interesting, forward to a friend.
To access all issues of Special Insights, click here. To Good Health,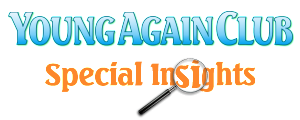 John Thomas, Author Young Again!
509-465-4154
SpecialInsights@YoungAgainClub.com
Privacy Policy | Disclaimer |Terms & Conditions of Use
Young Again Club™ | Special Insights™
www.YounAgainClub.com | SpecialInsights@YoungAgainClub.com
P. O. Box 1240, Mead, WA 99021
Phone 509-465-4154 | Fax 509-466-8103