WHAT ARE THREE, CRITICALLY IMPORTANT, HEALTH RELATED QUESTIONS TO ASK YOURSELF? How did this happen? Where did it come from? Why is it happening to me?
WHAT'S YOUR MOST POWERFUL TOOL FOR MAINTAINING GOOD HEALTH? The food you choose to eat.
WHAT ARE FOUR COMMON HEALTH CARE FAILURES? Failure to seek guidance outside of the sick-care system, failure to accept guidance, failure follow directions and failure to accept personal responsibility.
WHAT'S THE THIRD LEADING CA– USE OF DEATH IN THE USA? Iatrogenic medical errors and medications.
WHAT IS THE MOST COMMON MISTAKE PATIENTS MAKE? Embracing diagnosis and medications when the practitioner does not know [and cannot explain] the etiology of the problem from which you suffer.
Key words herein are linked to updated Glossary and Protocols sections of the YoungAgainClub.com website for clearer understanding of subjects under discussion. To use links, click on the blue, underlined words. Feel free to forward Special Insights to people you care about!
Mission: I write because I see what we are told does not match-up with truth. I mock the sick-care system because it deserves to be mocked. My mission is to deliver truth and perspective on matters of health and longevity. Truth will prevail, and people deserve to know truth for their personal and family well-being.
Observation: Sick-care is collapsing, and you will need guidance and valid information when self-care is your only, real option. Good doctors are shackled by technology and the system, and virtual medicine is on its way. Medicine is rigged against the patient, and the human element is fast disappearing! Knowledge and guidance will serve you well as lines lengthen and medicine becomes ever more, sterile.
WHY IS WINE A BAD IDEA? Wine grapes are commonly grown with the fungicide and hormone disruptor, vinclozolin that disrupts the hormones of drinkers [and that of their unborn children.] Wine has insidious consequences and glyphosate contamination makes matters worse. One glass a day increases odds of female breast cancer by 20-40% and poses prostate and testicular problems for men. [FYI: alcohol is a mycotoxin made by molds and fungi that promotes fungal invasion and mycotoxin dominance. Mycotoxins burden the kidneys, thyroid, ovaries, breasts, testicles and prostate. Fungal issues are consistently mistaken for bacterial infections that are treated with antibiotics [which are useless against fungi] and which fuel low-grade, systemic inflammation. Antibiotics devastate primal immunity, which must be restored to break the pernicious cycle of illness that follows their use, no matter your age when they were used.]
WHAT ISSUE IS A HEALTH ISSUE UNIVERSAL TO ALL? Getting enough, deep sleep! Poor sleep is symptomatic of systemic, low-grade inflammation, meaning, the body is tense and can't relax. Repair and healing occurs during the sleep cycle. Inability to sleep deeply has nothing to do with your mattress and everything to do with the condition of your, terrain. [Children sleep anywhere, anytime because they are not inflamed.]
WHY DO PEOPLE CHASE AFTER MEDICAL MAGIC? Fear, credentials, ignorance and relentless propaganda.
WHAT SHOULD YOU DO IF YOUR HEALTH IS IN JEOPARADY? If it's a life or death situation, do what must be done. Otherwise, play your God card to buy needed time, pray and seek guidance.
WHAT IS THE BIGGEST HEALTH FRAUD OF ALL TIME? The bald-face lie that vaccinations provide protection and humoral immunity. [Read, Dr. Mary's Monkey.] And, if you have already disadvantaged yourself with vaccinations, it would be prudent to reverse the damage and restore your primal immunity.]
WHAT IS THE SECOND BIGGEST MEDICAL FRAUD IN HISTORY? The bald-face lie that cancer is a genetic disease caused by gene mutations, and therefore, you must embrace medical abuse and dangerous medications to kill the cancer. However, cancer is not the problem! Cancer is a symptom and a metabolic disorder, not a disease. Soon, cancer will be killer number one, and one of every two people are going to die of cancer. [Wake-up and learn how to care for yourself to keep your name off the roster and avoid roll call.]
WHAT ARE SIX STEPS FOR RESTORATION AND MAINTAINANCE OF HEALTH? Get understanding, change your belief system, stop living in fear and of things you don't understand, stop listening to medical experts who don't know the etiology of your problem, seek guidance outside of the sick-care system and ignore what others think.
NAME FOUR HEALTHY DIETARY HABITS? Eat clean food, limit yourself to two meals a day [with no snacking], practice intermittent fasting and use coconut oil with every meal to ease cravings and keep your energy up.
HOW DO YOU CONFRONT CANCER, DIABETES, CARDIOVASCULAR AND ARTHRITIS? Challenge your diagnosis, know that symptoms are not disease and lab tests are not definitive, know that you have options if you will change your thinking, and lastly, unload the fear by seeking guidance outside of the sick-care system.
WHAT'S THE BEST WAYS TO AVOID MISDIAGNOSIS? Avoid doctors, [conventional and alternative], avoid the sick-care system, avoid medications and avoid internet, information overload.
WHAT CAN BE DONE TO AVOID BECOMING A MEDICAL STATISTIC? Know when to play your God card.
WHAT CAN BE DONE TO IMPROVE DIGESTION AND LIMIT CARDIOVASCULAR RISK? Use betaine-hydrochloric acid [HCL] tablets immediately before meals, never use antacids and PPIs [proton pump inhibitors] and stay the hell away from statins and cholesterol inhibiting drugs. Cui bono?
WHY DO PEOPLE BELIEVE IN ACID INDIGESTION? Because they don't know better and because they were told acid-indigestion and GERD [gastrointestinal reflux disease] are caused by stomach acidity, which is a lie!
WHAT HEALTH ISSUES AFFECT EVERYONE, REGARDLESS OF AGE? Toxification of the body's terrain, loss of primal immunity, infestation by fungal molds and yeast and failure to maintain hormone balance and function.
WHAT FIVE NUTRITIONAL DEFICIENCIES CANNOT BE CORRECTED BY DIET? Vitamin C, vitamins B-1, B-3 & B-12, zinc, magnesium, selenium, iodine and vitamin D-3.
WHAT IS THE SUREST WAY TO DEVELOP BREAST CANCER AND ENCOURAGE ARTHRITIS AND OSTEOPOROSIS? By doing exactly what the experts tell you to do, by embracing medical myths and internet folklore, by using calcium supplements, statin drugs, PPIs [proton pump inhibitors] and medications. [Learn more.]
WHAT IS THE BEST MEDICAL INSURANCE AVAILABLE? You! [Insurance is defensive, not offensive. Lab tests destroy peace of mind and instill, false security. Insurance is not for admission into the sick-care system where you will be misled and abused. Insurance is for emergencies and life or death situations. Cure is spelled, you!]
WHAT ARE THREE FRAUDULENT MEDICAL CONCEPTS? Chemotherapy and radiation to cure cancer, vaccinations to provide humoral immunity and medications are safe. [Iatrogenic screw-ups are killer #3 in the USA!]
WHAT HABITS IMPROVE OVERALL HEALTH? Eating whole plant foods, getting more deep sleep, practicing intermittent fasting, doing daily enemas, clearing glyphosate residues from your body and refusing to embrace the use of drugs and medications except in emergencies on a limited, basis.
WHY ARE MEDICATIONS DANGEROUS? Because they poison the body! [By definition, a pharmaceutical drug must be able to kill you to be so classified! Food supplements, by definition, cannot kill you. Go figure!]
WHY ARE THROID TESTS FOR T-3, T-4 AND TSH NOT TO BE TRUSTED? Because, they don't explain why women who test normal, still suffer from cold bodies, low energy, inflamed joints, belly fat, water retention, obesity, hormonal imbalance, low of sex drive, vaginal dryness, thin hair, foggy brain, dry skin and loss of muscle mass. [The same applies to men with their ED and prostate problems!] Want help? Ask.
WHAT ARE THE THREE MOST FEARED, MEDICAL WORDS? Cancer, Alzheimer's & loss of vision.
WHAT CAN YOU DO TO AVOID LOSS OF VISION AND ALZHEIMER'S AND DEMENTIA? Change the way you are living your life. [And if you have symptoms, know that the experts have no idea of the etiology of your problem and have miserable track records for reversing the progressive nature of degenerative vision problems.]
WHAT'S THE MOST PERVASIVE ENVIRONMENTAL POISON NOW AFFECTING YOUR HEALTH? RoundUp [glyphosate.] Everyone's body is loaded with glyphosate because the food chain is loaded with it. Getting it out of your body before inflammation and infection destroy well-being is critical. [Note: class-action-law-suits for Round-Up are now in progress! [Better to be healthy than sick or dead! You must choose.]
WHAT HABITS GUARANTEE POOR HEALTH? Diets low in whole plant foods and high in sweets, failure to drink enough, clean water, failure to remove fluoride and glyphosate from your body, failure to use bio-active iodine, selenium and zinc, lack of bio-active ions, lack of enough deep sleep, bowel disorders and sluggish bowels and lack of exercise.
WHY ARE HUMANS PLAGUED BY AUTOIMMUNE CHALLENGES? Because everyone suffers from dysfunctional metabolism. The medical experts mislabel autoimmune symptoms as diseases, syndromes and disorders due to ignorance of the etiology behind patient symptoms. [Symptoms are effects, never cause, and degenerative disease, no matter the label, is always an autoimmune issue in disguise.]
WHAT ABOUT GENETIC MISDIAGNOSIS? So-called genetic disorders are not diseases, they are epigenetic manifestations. DNA, chromosomes and genes self-correct if primal immunity is restored and toxicity eliminated. Allopathic and alternative medicine are drowning in worn out theories about things like cancer, diabetes, arthritis, heart and mitochondrial disease, all of which are correctable, metabolic disorders!
WHY IS MEDICAL MISDIAGNOSIS SO COMMON? Because the medical model is faulty, and because people want a boogeymen to blame and an official sounding diagnostic pronouncement to justify medical intervention.
WHAT'S THE PHONE NUMBER OF THE BEST DOCTOR IN TOWN? Your own!
WHAT CAN BE DONE TO RESTORE HAIR, SKIN AND NAILS AND AVOID THINNING? Restore thyroid function, address fungus infestation, neutralize mycotoxin dominance, restore metabolic rate, balance sexual hormones, restore liver function and provide the body with bio-active ions each and every day.
WHY DO PEOPLE SUFFER TINNITUS [ RINGING IN EARS] AND FLOATERS IN THEIR EYES? Because they are infested with fungal yeast, because they are mycotoxin dominant and because their hormones are out of balance.
WHY DO WOMEN SUFFER VERTIGO AFTER AGE 40? Simple question, long answer. Ask if affected.
WHAT'S THE SINGLE, MOST EFFECTIVE DAILY HABIT TO IMPROVE YOUR HEALTH? Enemas! People have hang-ups and misconceptions about enemas. Check out the YAC Enema Protocol, here. [If you are sickly or have chronic issues, enemas should be at the top of your list. They are easy to do and they work!]
WHAT CAN BE DONE TO SETTLE CARDIOVASCULAR ISSUES, SUCH AS BLOOD PRESSURE, A-FIB AND ARRYTHMIA? Deal with the causes, and understand that they are side-effects of mycotoxin dominance masquerading as heart disease. [It's not your, heart! It's inflammation, hormones, thyroid dysfunction and toxicity.]
WHAT ABOUT PRE-DIABETES (BLOOD SUGAR OVER 90) AND DIABETES TYPES 1, 2 & 3? Lots to learn, here. Understand the causes and you can avoid drugs and useless, medical metrics like, A1-c. [Learn more, here.]
WHAT FOODS PROMOTE HEALTH? Fresh, organic, whole-plant-foods prepared at home with emphasis on fresh greens, such as spinach, kale and chard.
WHAT ABOUT MEAT, FISH, DAIRY AND EGGS? Eat organic fruits and vegetables, eat modestly, and know that all animal products are loaded with antibiotics and glyphosate [especially dairy and chicken, regardless if labeled, organic.] Avoid farmed fish. Eat lots of greens and root vegetables. Follow Young Again Club protocols to avoid accumulation of glyphosate residues and clear them from your tissues.
WHAT IS IT ABOUT FUNGAL YEAST THAT THE PUBLIC DOES NOT COMPREHEND? Molds are unlike bacteria, viruses and parasites, and mold infestation affects everyone. Your terrain dictates body response to mold spores, not exposure. Antibiotics, steroids and contraceptives activate mold spores to grow and spread, and once infested, you will stay infested until the problem is corrected. [Whatever your health issue, know that compromised immunity and part of your story. See Mold & fungus Protocol, here.]
WHAT ARE REAL THREATS TO LIFE AND HEALTH? Voluntary participation in sick-care medicine, using medications, believing practitioners who have poor [or no] grounding in microbiology, physiology, biochemistry, and evolutionary biology, and who fail to understand the meaning of the word, etiology. And lastly, failure to understand that practitioners are not free agents, that they are controlled by Big-Pharma and that they are required to sacrifice patient's best interests in order to comply with the rules of Standard or Care.
WHAT CAN BE DONE TO LOWER HEALTHCARE COSTS? Put into practice the things discussed in this article.
WHAT IS THE BEST WAY TO LOSE WEIGHT & BELLY FAT? Create a youthful metabolic rate, change your diet, practice intermittent fasting, restore thyroid function and primal immunity, reverse fungal infestation and mycotoxin toxicity and correct hormone imbalance. [Ask for guidance!]
WHAT'S A GOOD WAY TO RESTORE MUSCLE AND TONE? Eat healthy food, avoid overeating, avoid alcohol and wine, clear your body of fungal mycotoxins, restore your hormones, cook your own meals, drink clean water, resurrect metabolic rate, get plenty of exercise and sleep and ask for guidance.
WHAT CAN BE DONE TO ELIMINATE INFLAMMATION AND PAIN? Ask.
WHAT CAN BE DONE ABOUT GLUTEN INTOLLERANCE AND FOOD SENSITIVITIES? Ask.
WHAT CAN BE DONE TO AVOID ALZHEIMER'S, PARKINSON'S AND DIMENTIA? Ask.
WHAT CAN BE DONE FOR RESTLESS LEGS SYNDROME & NEUROPATHY? Ask.
WHAT CAN BE DONE FOR MENSTRUEL, HORMONAL, BLADDER AND PROSTATE ISSUES? Ask.
WHAT CAN BE DONE TO IMPROVE EYESIGHT AND AVOID VISION ISSUES? Ask.
WHAT CAN BE DONE TO IMPROVE HEARING AND AVOID DEAFNESS? Ask.
WHAT CAN BE DONE TO IMPROVE YOUR HEALTH ON A LIMITED BUDGET? Ask.
Misdiagnosis Crisis
MISDIAGNOSIS IS A BIG PROBLEM AND IT HAPPENS EVERY DAY! Don't settle for misdiagnosis and questionable lab results to sound your alarm. Misdiagnosis disarms and confuses patients, causing them to embrace non-existent diseases and dangerous, corrosive medications.] Never forget, the only thing worse than misdiagnosis is treatment for a problem you DO NOT have!
Alternative medicine is losing direction and purpose, and it is following FAST in the footsteps of allopathic medicine. Practitioners are CAPTIVE AGENTS of Big-Pharma and the game called, sick-care is RIGGED against patients! Be on guard and ready to play your God card before diagnostic fear seizes your faculties. For your own good, upon diagnosis, REMOVE YOURSELF so you have time to seek guidance, think and pray.
In many ways, the internet is the WORSE THING that ever happened to people because of information overload. Seriously! It's a VERY BIG problem and I hear it every day! People are overwhelmed with misinformation and disinformation, don't know the difference and have no way to assess their situation. You can change that.
With KNOWLEDGE, UNDERSTANDING AND GUIDANCE, you can separate medical fact from medical fiction, avoid internet information-overload and get control of your health and life. A word to the wise.
Conclusions & Solutions
Whatever your health problems, your diagnosis is SELDOM the cause. Your symptoms are the effects.
If you have health issues, know that your terrain needs tending. Aging and suffering have no place in anyone's story. Why tolerate it? Ask for guidance.AA Better Way
Abundant energy and a pain-free body can be yours. Special Insights™ from Young Again Club helps you enjoy a better life.
Each issue of Special Insights is a chapter in my NEW BOOK by the same title. They are FREE to everyone; forward them as you wish, and if you want family or a friend to receive them, simply provide their name and email address by clicking here.
If you have not read Young Again! you should. If you would like a copy of the book, click here.
Personalize Your Program
Young Again Club members enjoy personalized service and programs designed for each individual. To learn more, click here.
If you found this information interesting, forward to a friend.
To access all issues of Special Insights, click here. To Good Health,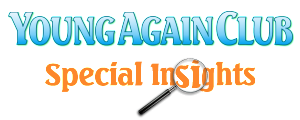 John Thomas, Author Young Again!
509-465-4154
SpecialInsights@YoungAgainClub.com
Privacy Policy | Disclaimer |Terms & Conditions of Use  
Young Again Club™ | Special Insights™
www.YounAgainClub.com | SpecialInsights@YoungAgainClub.com
P. O. Box 1240, Mead, WA 99021
Phone 509-465-4154 | Fax 509-466-8103