The Young Again Club Story [and the products that came from it] is the result of my near death experience in year, 2012.  The story is unique because it provides real, tangible proof that the body can [when given the means] recover and regenerate in the face of severe adversity, regardless of age or circumstance. 
Year 2012 was a time of, awakening!  In the years preceding it, there was widespread, complacency.  For John Thomas, 2012 was the beginning of new information and knowledge people worldwide would use to care for themselves and disconnect from the sick-care system.  Year 2012 was a foundational year that provided new direction and purpose for Young Again Club members and people, everywhere. 
Year 2012 was also a turning point in public awareness of medical, ignorance.  It was the year people recognized the shortcomings and tragic consequences of the, sick-care system.  As awareness increased, people took personal responsibility for their health and well-being.  The shift was very noticeable and very, encouraging.  A new trend had begun, and it continues to grow, daily. 
Young Again Club offerings are unlike other products and protocols.  Formulations and offerings are energy-based for boosting vitality and restoration of life-force.  Club protocols are specialized and offer novel approaches to people's health challenges and age-related issues.  Young Again Club is unique to the industry. 
Let's review.  [Items in blue are hyperlinked; click as you wish.  'Re' stands for, renewal.] 
ReCharge: improves vitality and energy by boosting blood and oxygen delivery to the cells. 
ReMove: reduces ferritin iron overload and systemic inflammation; improves brain function. 
ReVive: for steady energy, blood sugar management and insulin & leptin resistance. 
ReNew: works with ReVive; [above]; orchestrates changes in metabolism and terrain.
ReSet: boosts energy, curbs food cravings and helps with weight control, hormones and brain fog.
ReStore: a most unique approach digestion, leaky-gut, gas and bloat and irritable bowel. 
Mold & Fungus Program:  the ultimate correction for degenerative dis-ease.  More here and here.  
Ion Trio:  addresses issues of: thyroid, memory, sleep, body temperature & heavy metals. More, here. 
EndoBiotica & ProOx:  resurrection of Primal Immunity & settling of intestinal gut wall.  More, here. 
MetaBolic Complex:  rejuvenation and restoration of mitochondrial pathways.  More, here.
BlueUndo:  future offering for more oxygen, sharper mind & reduction of CO (carbon monoxide) loading. 
Here are four very, popular club protocols.  All are cutting edge; check them out! 
Mold & Fungus Protocol:  http://www.youngagainclub.com/mold—fungus-protocol.html
Tissue & Liver Protocol:  http://www.youngagainclub.com/tissue—liver-protocol.html
Terrain pH Protocol:  http://www.youngagainclub.com/terrain-ph-protocol.html.
Immune Protocol: http://www.youngagainclub.com/immune-protocol-.html
Young Again Club is making a big difference in people's lives.  Avoiding the, sick-care system is top priority.  The Club's Website is a teaching site devoted to indepth discussions of things health, energy and medical.  The monthly newsletter, Special Insights, is FREE and is devoted to helping readers avoid the sick-care, trap. 
Call John Thomas, today.  He is happy to speak with you, personally.  Guidance is provided according to each individual's needs, without cost of any kind.  Most people appreciate personalized help before, ordering. 
John Thomas, Author and founder of Young Again Club (509)465-4154 or johnthomas@youngagainclub.com.
A Better Way
Abundant energy and a pain-free body can be yours.  Special Insights™ from Young Again Club helps you enjoy a better life.
Each issue of Special Insights is a chapter in my NEW BOOK by the same title.  They are FREE to everyone; forward them as you wish, and if you want family or a friend to receive them, simply provide their name and email address by clicking here.
If you have not read Young Again! you should.  If you would like a copy of the book, click here.
Personalize Your Program
Young Again Club members enjoy personalized service and programs designed for each individual.  To learn more, click here.
If you found this information interesting, forward to a friend.

To access all issues of Special Insights, click
here
.
To Good Health,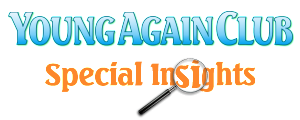 John Thomas, Author
Young Again!
509-465-4154