You have Options
∙ Anecdotal Observations ∙
1. Your best defense is a physiologically strong terrain and a strong offense.
2. What is coming is unlike anything any of us have ever faced before.
3. Self-defense is possible, but good food and common supplements will not do it.
4. Delay and worry are useless; immediate action is necessary.
5. You have viable options; be willing to take-action on your own behalf.
6. Ignore silly backyard remedies for dealing with the vaxx.  There is much to know.
7. People have neither the time nor background to comprehend human physiology.
8. Time is of essence!  Reach out and learn how to prepare for war.
9. We are in a war against God and humanity.
10. May God help all of us. 
If you need guidance, I am happy to help.
A Better Way 
Abundant energy and a pain-free body can be yours. Special Insights™ from Young Again Club helps you enjoy a better life. To learn more, click here.
If you have not read Young Again! you should. If you would like a copy of the book, click here.
Personalize Your Program Young Again Club members enjoy personalized service and programs designed for each individual. To contact John Thomas, click here .
If you found this information interesting, forward to a friend. To access all issues of Special Insights, click here.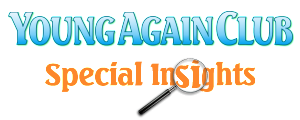 John Thomas, Author Young Again!
509-465-4154

SpecialInsights@YoungAgainClub.com
www.YoungAgainClub.com
Privacy Policy | Disclaimer |Terms & Conditions of Use
Young Again Club™ | Special Insights™
www.YounAgainClub.com | SpecialInsights@YoungAgainClub.com
P. O. Box 1240, Mead, WA 99021
Phone 509-465-4154 | Fax 509-466-8103