MetaBolic Complex is a concentrated, naturally-fermented, full-spectrum biocatalyst for improved health and rejuvenation.  To learn more and obtain your FREE BOTTLE of this unique product offering, read on. 
I am excited because now there is a way for everyone [of any age] to improve health and sense of well-being by restoring the body's natural regulatory mechanisms.  MetaBolic Complex is exciting!  Here is the story…
MetaBolic Complex boosts mitochondrial activity – the KEY to health –  no matter your age or circumstance.  Children grow stronger bodies, middle-agers look and feel better and the elderly get a new lease on life. 
Did you know, MetaBolic Complex promotes osteocalcin metabolism, so calcium is directed into bone INSTEAD of heart valves, arteries and joints?  Did you know, osteocalcin and full spectrum mineral ions dissolve troublesome calcium deposits?  Did you know, unopposed calcium dominance is common to inflammation, arthritis, prostate, bladder, neuropathy and stenosis issues and a major factor in breast cancer?
Do you suffer from chronic health issues?  Is your body inflamed and unresponsive?  MetaBolic Complex helps restore regulatory mechanisms and mitochondrial pathways that support health and longevity.  Just two capsules a day is all it takes.  Best of all, you get a FREE BOTTLE of MetaBolic Complex with your initial order.  
Did you know, MetaBolic Complex boosts Primal Immunity?  Expect less senescence, improved gate and balance, better bowels, comfortable feet [especially in your once-upon-a-time favorite shoes,] less inflammation, improved thyroid, sharper memory, reduced brain fog, more energy, improved hearing and vision and less skin irregularities.  [Doing the Terrain pH Protocol at the same time helps – and, its FREE!]
HAVE YOU NOTICED the parade of specialized products and protocols from Young Again Club in recent years?  The reason they are being offered now is because people are in trouble and need help and guidance before getting caught-up in the sick-care system [or if already enrolled, escaping from it while there is still time!]
WHATEVER your issues, know they are autoimmune symptoms in disguise.  Symptoms are side-effects of compromised immunity and mold and yeast invasion, and both require specialized protocols for the body to self-correct.  Use MetaBolic Complex to resurrect your health and well-being and aid hormonal balance. 
YOUR FUTURE DEPENDS ON MAINTAINING GOOD HEALTH AND AVOIDING THE SICK-CARE SYSTEM.
Excellent for mitochondrial dysfunction.
Improves circulation & eases brain fog.
Helps manage moodiness & hyperactivity.
Promotes deep, sound, wonderful sleep.
Eases inflammation and neuropathy.
Avoid embarrassing senior moments.
Helps manage sugar & insulin resistance.
Improve your mobility, gate & balance.
Helps female/male hormones & thyroid.
Less gas & bloat; boost liver function.
Helps respiration, gums, eyes & ears.
Promotes bone growth & speeds healing.
Naturally compatible with everything.
MetaBolic Complex is now available.  Ask about your FREE BOTTLE with introductory offer. 
John Thomas, Author (509) 465-4154 or email:  johnthomas@YoungAgainClub.com
A Better Way
Abundant energy and a pain-free body can be yours.  Special Insights™ from Young Again Club helps you enjoy a better life.
Each issue of Special Insights is a chapter in my NEW BOOK by the same title.  They are FREE to everyone; forward them as you wish, and if you want family or a friend to receive them, simply provide their name and email address by clicking here.
If you have not read Young Again! you should.  If you would like a copy of the book, click here.
Personalize Your Program
Young Again Club members enjoy personalized service and programs designed for each individual.  To learn more, click here.
If you found this information interesting, forward to a friend.

To access all issues of Special Insights, click
here
.
To Good Health,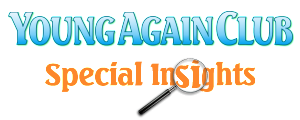 John Thomas, Author
Young Again!
509-465-4154