Intestinal inflammation plays a big role in seasonal illness!  Runny nose, chills, fever, phlegm, diarrhea, sinus/lung issues and stuffy ears are all side-effects of intestinal inflammation and the flu season.
Now, there is a naturally way avoid seasonal illness.  By protecting the passageways of your body from inflammation, you can avoid illness, reduce infections and ease congestion without using risky antibiotics, nasal mists and worthless, flu shots.
InFlameAway is an alternative offering to a sister product recently introduced by Young Again Club called, Inches & Pounds.  Both offerings are similar in nature, but each has a different focus.
If your concern is healthy immune response, InFlameAway is for you.  If your concern is waistline and weight reduction and you want healthy immune response, use Inches & Pounds.  Both products are part of the MicroBiota Protocol, and both products contain activated oligosacchrides that assist mucin-producing bacteria thicken the PROTECTIVE lining of your intestinal mucosa.
The inability to shed belly fat and reduce weight is the same problem as inability to grow muscle and bone.  Common to both is INFLAMMATION, and common to both is a dysfunctional mucosa from using ANTIBIOTICS.
InFlameAway is a specialized formula of oligosaccharides that bacteria use to make mucous.  Mucous PREVENTS the intestinal tract from becoming perturbed, a condition called dysbacteriosis.  When the mucosa is perturbed, resident bacteria turn virulent and create infection!  MUCOUS PREVENTS INFECTION!
When combined with the YAC Immune Protocol, InFlameAway accelerates the return of primal immunity, and at the same time, helps manage gas, bloat, bowel disorders and food sensitivity issues.
A dysfunctional mucosa NEEDS mucous to protect and keep the intestinal wall, sealed!  Lack of mucous causes leaky-gut and gluten issues that plague the entire population.  Crohn's and celiac disease, diabetes, asthma, psoriasis and neuropathy are additional examples!  Behind these problems is misuse of antibiotics.
Alzheimer's, Parkinson's and dementia are inflammatory brain disorders that have their origins in a perturbed mucosa.  Ditto for ADHD, autism, chronic fatigue, rosacea, lupus and eczema.  Mucous PROTECTS your intestinal tract against inflammation and infection associated with seasonal illness!
Now, you can avoid the misery!  Get your FREE BOTTLE of InFlameAway, today!
LOOK WHAT InFlameAway CAN DO FOR YOU
Helps commensal bacteria make mucous.
A welcome solution for intestinal disorders.
Reduces inflammation in the body.
Helps bladder and prostate issues.
Promotes deep, wonderful sleep.
Sharpens memory & eases brain fog.
Calms moodiness & hyperactivity.
Helps blood sugar & insulin resistance.
Capsules can be opened &mixed w/liquids.
Helps female/male hormones & thyroid.
Aids liver function and eases gas & bloat.
Naturally compatible with everything.
InFlameAway is now available!  Ask about your FREE BOTTLE with introductory offer.                
John Thomas, Author (509) 465-4154 or email: johnthomas@YoungAgainClub.com
Personalize Your Program
Young Again Club members enjoy personalized service and programs designed for each individual.  To learn more, click here.
If you found this information interesting, forward to a friend.

To access all issues of Special Insights, click
here
.
To Good Health,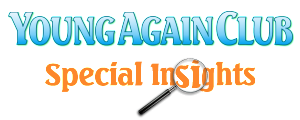 John Thomas, Author
Young Again!
509-465-4154