Making Your Own B-vitamins
[A Dietary Gift From The Vikings]
∙ Anecdotal Observations ∙
The human body is designed to heal itself and fermenting food in your colon is the perfect way to make it happen! Fermentation is how the body makes its own B-vitamins. Fermented food eases premature aging and dis-ease. Fermented food is key for a healthy life. To learn more, read on.
Viking Health In The 21st Century
The Vikings settled Iceland around 800 A.D. Settlers had little choice but to ferment food [both animal and crops] to sustain themselves. Fermentation allowed the Vikings to enjoy peak health and live 100 years when humans world-wide suffered miserably and died young.
For 1,000 years degenerative dis-ease was NOT an issue in Viking Iceland because they fermented their food. Later, when Icelanders embraced the traditional English diet [around year 1800], premature aging and dis-ease decimated the population. Disorders of the bowel led the way, then and now!
Disorders such as sluggish bowel [less than three movements/day], polyps, colitis, diverticulitis, gas & bloat, pre-diabetes, diabetes, skin disorders, body odor, acidic pH, cardiovascular issues and CANCER are rooted in dysfunctional bowels and the inability to ferment food in your colon as we were designed.
The Icelandic Dietary Phenomenon
Icelandic Magic lets everyone partake in the Icelandic [Viking] Dietary Phenomenon of fermentation of food in the colon and making of B-vitamins as we are supposed to do. Fermentation neutralizes low-grade inflammation. Fermentation eases suffering and promotes health.
In 2018, readers learned of the Icelandic Dietary Phenomenon and accepted my offer to duplicate the miracle for themselves. And what a miracle it was! Suffering and symptoms eased and disappeared as health improved with just two capsules of Icelandic Magic taken twice daily.
John Thomas just posted before and after photos of himself on youngagainclub.com website so readers can see the benefits of fermentation! [Photos were taken 8 years apart!]. The 2013 photo was taken just six months after John's near-death experience. See John Thomas' health history, here.
Icelandic Magic Introductory Offer
The introductory offer for Icelandic Magic is STILL AVAILABLE for those who did not take advantage of it. You get three bottles [3-month supply] for only $100 plus shipping. Be sure and take advantage of it.
Icelandic Magic opens the door for better health and avoiding symptoms associated with sick-care medicine. This link provides questions and answers about Icelandic Magic. This link tells the full story of Iceland's Dietary Phenomenon. One-thousand years of health and longevity cannot be denied!
Eating fermented food makes sense, but you can't eat enough to duplicate the Icelandic Phenomenon. Fermented food is expensive and few people care for it. Besides, availability is limited.
Icelandic Magic let's everyone experience the miracle of fermentation. Icelandic Magic remedies dis-ease and premature aging and it helps your body make B-vitamins, too!
Fermentation helped John Thomas regenerate his 77-year-old body. He did it and you can too!
Order Icelandic Magic today and experience the miracle of Viking-Iceland.
JohnThomas@YoungAgainClub.com or (509) 465-4154
Special Insight -Text Notification Opt. In
Don't miss out on the next Special Insights. Opt. in to our text communication. Click here and respond with YES.
A Better Way
Abundant energy and a pain-free body can be yours. Special Insights™ from Young Again Club helps you enjoy a better life. To learn more, click here. 
If you have not read Young Again! you should. If you would like a copy of the book, click here.   
Personalize Your Program Young Again Club members enjoy personalized service and programs designed for each individual. To contact John Thomas, click here .
If you found this information interesting, forward to a friend. To access all issues of Special Insights, click here.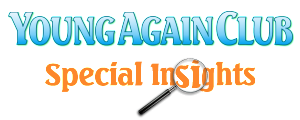 John Thomas, Author Young Again!
509-465-4154

SpecialInsights@YoungAgainClub.com
www.YoungAgainClub.com
Privacy Policy | Disclaimer |Terms & Conditions of Use
Young Again Club™ | Special Insights™
www.YounAgainClub.com | SpecialInsights@YoungAgainClub.com
P. O. Box 1240, Mead, WA 99021
Phone 509-465-4154 | Fax 509-466-8103