BioCarbon ComplexA 10-day trial sample is available for FREE for shi only, or get a TWO MONTH SUPPLY of BioCarbon Complex for the introductory price of $90, or you can also get three bottles of BioCarbon Complex for $259 [lasts 4-6 months] and save, big! [BioCarbon Complex is biodynamic carbon that has nothing to do with charcoal or Carbon-60. BioCarbon Complex restores health and well-being in a way heretofore, unavailable!
You will like the effects of biodynamic carbon and SBO cofactors on bowel function and body odor. It is a gentle, but powerful detoxifier that safely exports heavy metals and excess drug residues that promote growth of unfriendly organisms. BioCarbon Complex is a real game changer!
Icelandic Magic If you have not received your free bottle of Icelandic Magic, ask John Thomas to send you a bottle [one month supply] for shi only. [Icelandic Magic promotes healthy fermentation in the colon and production of short-chain fatty acids. Eating fermented foods does NOT compare with the effect of Iceland Magic.]
To get TWO free bottles of Icelandic Magic, purchase just one and you will get THREE BOTTLES for the incredibly low price of $100. This is John Thomas' 25th Anniversary Offer. [Order Icelandic Magic at the same time as BioCarbon Complex [above] and /or sea mineral sulfates [below] to avoid additional shi.]
Sea Mineral Sulfates Liquid sea mineral sulfates are now available and should be high on EVERYONE'S priority list. Use them to protect your brain/heart from microwave radiation and wasting syndrome and prevent muscle wasting syndrome. Liquid sulfates are $55/bottle [one bottle lasts 4-6 weeks] or 5 bottles for $269. Sulfates are also available in tablet form. [You cannot avoid microwave radiation, but you can neutralize its effects.]
Summary Icelandic Magic, BioCarbon and sea mineral sulfates help maintain your health and allow you to be e proactive against non-ionizing radiation [think: 5G cellphone/microwave towers and routers], glyphosate poisoning and accumulation of heavy metals in the brain from contrails in the skies, vaccinations, food and medications.
The combined benefits of Icelandic Magic, BioCarbon Complex and sea mineral sulfates cannot be overstressed in today's highly toxic chemical and electronic environment. Health Essentials Trio is one of a kind.
Know this: Things are changing, and your future health depends on accurate assessment of risk.
AnnouncementSenior & Limited Budget Programs are available to help those in need who are living on extremely limited budgets. Please do not allow limited funds to get in the way of maintaining your health and vitality. There are many FREE protocols to help and John Thomas is willing to assist where needed. Ask for details.
John Thomas is available for guidance without cost of any kind.
Personalize Your Program
Young Again Club members enjoy personalized service and programs designed for each individual. To learn more, click here.
If you found this information interesting, forward to a friend.
To access all issues of Special Insights, click here. To Good Health,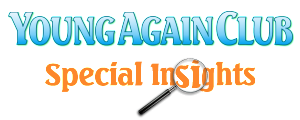 John Thomas, Author Young Again!
509-465-4154
SpecialInsights@YoungAgainClub.com
Privacy Policy | Disclaimer |Terms & Conditions of Use
Young Again Club™ | Special Insights™
www.YounAgainClub.com | SpecialInsights@YoungAgainClub.com
P. O. Box 1240, Mead, WA 99021
Phone 509-465-4154 | Fax 509-466-8103