"Forget chemotherapy and radiation; no way would I ever do, that!"  Then, doctor utters, "CANCER!" and people can't get in line fast enough!  Why do people panic and cave-in? To understand, read on.
Kabuki Theater: an illusionary portrayal by words and trickery; a purposeful mockery!  The sick-care system has much in common with kabuki theater.  Today's, Part II is the balance of the breast and osteoporosis story without pretense or kabuki fiction.
Mission: I write because I see that what we are told does not match up with the truth.  My mission is to deliver truth and perspective on matters of health and longevity.  Truth prevails; and people deserve to know truth for their personal and family well-being.
Observation: Sick-care is collapsing, and you will need guidance and valid information when self-care is your only option.  Good doctors are shackled, and the medical system is rigged and corrupt!  Virtual medicine is coming, and you are not going to like it.  In the near future, personal knowledge and guidance will serve you well.  Prepare to care for yourself and your loved ones.
Forward Special Insights to people you care about!  Key words herein are linked to updated Glossary and Protocols Sections of the YoungAgainClub.com website for better understanding of subjects under discussion.  To use links, click on the blue underlined words.
Part II: Overview & Perspective
Part I is available if you missed it or wish to refresh.  To read it click here.
Living systems are extremely complex and health challenges are NEVER singular!
Understanding medical fictions such as cancer and osteoporosis requires readers separate truth from lies.  Fear-based, medical myths and fictions melt when human instinct awakens!
Question.  How can a six-letter word like CANCER generate so much FEAR?  Answer: false perception!  Meaning, the fictional myth that cancer is a disease, that the tumor is the problem, and if you can kill it or remove it, everything will be fine.  These delusional ideas are simply, not true!
Cancers are dense, fungal colonies of negatively, charged energy in a polluted, toxic body.  Yet, if you change your terrain the negative energy growth [that is cancer] goes away! [Sir Isaac Newton: "Energy is never lost, it merely changes form."]
Your perception of cancer predetermines your response upon doctor's, diagnosis.  What you think you know about cancer DOES NOT MATTER if your assumptions are faulty.  Upon diagnosis, how you cared for yourself becomes meaningless because you are in trouble.  Confusion reigns.
Diagnosis changes everything!  Upon diagnosis, you must QUESTION EVERYTHING you are told by credentialed experts who use FEAR to seize control of your life and your faculties.  Assume the medical model is faulty [and it is!] and the information provided puts you, at-risk. It's similar to being in a poker game where after 15 minutes, if you don't know who the patsy is, it's you.  Don't forget it!
Medical degrees are nice, but deceiving.  Formal schooling limits independent observation while FEAR of peer criticism and regulatory scrutiny trumps doctor's choices.
Know, that medical science is NEVER settled.  Today's medicine is tomorrow's, witchcraft. I am not referring to advances in surgery and emergency medicine.  But, I am attacking the dismal failure of sick-care medicine to prevent disease while fostering more of the same.
Today, it's the knife, chemotherapy and radiation; tomorrow, it's a promising new, whatever.  Yesterday, stints and by-pass surgery were the rage. Now, knowledgeable professionals know them for the hoaxes they are.  [FYI: alleviation of symptoms is NOT a cure and medications destroy the body.]
Isn't it odd that new medications are always, "promising?"  Yet, after 10 years of doctors misleading patients about the safety and efficacy of Vioxx, 60,000 people were DEAD!  Don't forget it, and don't ever allow doctor, spouse, family or friends to dictate your choices! You are responsible for yourself.
Tunnel Vision Thinking  
I have known hundreds of medical professionals [physicians, nurses, naturopaths, chiropractors, etc.] who professed the opening words of this letter, and every one of them couldn't get in line for cancer therapy fast enough upon, diagnosis.  Worse, they lined up knowing full well that cancer therapy is futile. Few people survive beyond one year, and long-term survival is a moot issue.
So, why do people line up when doctor utters, CANCER?  Partly because the word strikes fear and consumes the emotions, and partly because we have been conditioned to respond with desperation because we believe cancer is everything that it is, not.
Patients assume doctor knows of what he/she speaks.  Quite the contrary. What doctor should know is NOT taught because medical training is "managed" and the medical model is defective.
Not knowing what you don't know is called, ignorance and ignorance gives birth to, FEAR!  What we think we know falls apart under pressure.  To repeat, diagnosis is the moment misconceptions collapse, and panic takes-over.
Upon diagnosis, the patient must play their GOD CARD BEFORE fear seizes control of their faculties.  There are better choices than cut, burn and poison, but you will not be told of them by doctor, and you will not find them at the [drug store] corner of "Not so happy, and not so healthy!"  Upon diagnosis, you must GO DEFENSIVE and escape, so you have time to think, assess and pray.
Bad Advice For Women & Men
It is ironic that women are advised to supplement with calcium to avoid osteoporosis, when calcium is one of three ingredients necessary for breast cancer to develop.  [Mycotoxin control of regulatory hormones and a dysfunctional immune system are the other two.]
Excess calcium is inflammatory, especially when unopposed by magnesium.  Females turn acidic 10 years before males, causing their bodies to withdraw minerals from bone, as well as fail to build new bone.  Fungal-yeast and mycotoxin dominance are central to osteoporosis.  [Page 100 of my book Young Again! shows what progressive, spinal osteoporosis looks like.  Click here to download book.]
Official recommendations for dietary calcium mislead women.  The problem is excess calcium, NOT deficiency. Unopposed calcium dominance and hormone imbalance are central to osteoporosis and breast cancer.  So, why do doctors push calcium supplementation and bone density tests on women?
Answer: because doctor is misled and ignorant of the facts.  Bone density tests are generally, useless. They instill FEAR and put women at-risk with irrational ideas about the nature of their condition and how it came to be.  Dysfunctional osteocalcin metabolism causes calcium to deposit in the breasts, heart valves, arteries and joints.  [Here is what you can do about it.]
Fraudulent testing, misinterpreted test results, unnecessary biopsies, surgical intervention, chemotherapy and radiation are confirmations that breast cancer therapy is malpractice disguised as, prevention.  Malpractice it is, prevention it is NOT!
What of mammogram?  Why are women given pink ribbons instead of truth?  Why do men line up for prostate biopsy?  Why aren't women told dysfunctional calcium metabolism, body acidity and mycotoxin control of hormones is the problem, NOT cancer?  Why are men mislead with silly PSA test scores and testosterone flimflam when they have NOTHING to do with prostate cancer? Why, indeed?
Why all the uncertainty and fear over breast and prostate cancer when they are easily avoided and easily corrected?  Why fret over parent and sibling health histories when cancer has absolutely NOTHING to do with genes? Answer: IGNORANCE and FEAR!
Timing & Fear
Would you like proof what I am saying is, true?  Okay, stay with me! Mammogram looks for calcium deposits in breast tissue.  Dysfunctional calcium metabolism and breast cancer are twin issues.  Worse, mammogram damages tissue and prostate biopsy damages tissue. Both are medieval.
The shameful aspect of mammogram arises when doctor and staff interpret test results and imply that they have discovered a suspicious condition and more tests are needed.  Biopsy may or may not confirm the diagnosis, yet, no one discusses, cause.  Patients are pushed to ACT QUICKLY before the [implied] cancer, spreads.  The tumor is always [wrongly] identified as THE PROBLEM.  Fear demands an enemy!
Why does doctor and staff pounce like vultures on the scared, shaken woman to IMMEDIATELY do biopsy, lumpectomy and/or mastectomy followed by radiation and chemotherapy?  Answer: FEAR! Timing is everything and diagnosis is the moment when FEAR is in the air!
Patients who decline to proceed AS DIRECTED with cancer therapy are hounded day and night until they relent and agree.  Sound familiar? [Well-meaning, but ignorant, family and friends do their part, too!]
A similar process occurs with men undergo prostate screening and biopsy, "Just to be sure!"  Worthless PSA testing and false diagnosis complete the circle.  [Prostate biopsy makes mammogram look tame!  Men [and women] can avoid these ugly procedures if they learn to care for themselves and seek guidance BEFORE fear seizes control of their faculties.
Cancer & Fungal Yeast Known Since 1931
In 1931, Otto Warburg was awarded the Nobel Prize in Science for his discovery that cancer is a FUNGUS.  [This was elucidated this in my book, Young Again!  25 years ago.  Now, the balance of the story.]  
Warburg identified fungus as the causative agent; meaning, mitochondrial dysfunction and cellular fermentation of glucose sugars.  However, Big-Pharma made certain patients [and doctors] would remain ignorant of the true nature of cancer by removing mycology from medical curriculums and, thereby, creating the information vacuum that exists to this very day.
Medicine and Big-Pharma focused attention on the TUMOR as the cause, when the tumor is the, effect.  Next, they sliced and diced cancer according to location, type and characteristics. [Medical flimflam distracts and people get confused with no way to discover the truth about their, dilemma.]
Fundamental to the cancer epidemic was introduction of antibiotics in 1950 that created a focal shift to bacteria and viruses.  Cancer became a mysterious infection somehow linked to people's genetics and family history INSTEAD of medications such as antibiotics and steroids and diet and lifestyle.
PEOPLE WERE NOT TOLD ANTIBIOTICS, BIRTH CONTROL PILLS AND STEROIDAL MEDICATIONS FUEL GROWTH OF FUNGAL-YEAST WHICH PRODUCE MYCOTOXINS THAT MANIPULATE THEIR HORMONES AND FUEL THE GROWTH OF CANCER.  The cancer epidemic is NO ACCIDENT!  It is the perfect, medical storm and, until now, people have absolutely no idea of the dynamics behind it or what to do about it.
Sixty-eight years have passed since 1950 and BOTH conventional and alternative medicine continue to grope in ignorance while patients suffer and die needlessly for lack of knowledge.  [The Mold & Fungus Protocol and the Immune Protocol are my answers to the dilemma called, cancer.]
[IMPORTANT!  December 2017, England: women FORCED to undergo breast cancer surgery after doctor decides she is MENTALLY UNFIT to make an informed decision.  Avoid seeing doctor for brain fog and cognitive issues to avoid establishing a profile that could be used to deprive you of your independence.  Understand, cognitive issues are rooted in pre-diabetes, iron overload of the brain and fungal manipulation of regulatory hormones!  First, it was forced vaccination of self and children, now its forced surgery.  Never forget, your GOD CARD is your best response under stress and duress.]
Health Screening & Medical Myths
The benefits of sick-care screening are greatly exaggerated.  Besides, it puts people at risk from anxiety, fear and FALSE SECURITY!  Check-ups and endless tests confuse patients while providing cover and justification for medical intervention and the sick-care system.
Perpetuation of the sick-care racket depends on four elements: 1. compliant patients who believe check-ups are in their best interest, 2. patients who embrace medical myths, 3. The idea that early detection is the same as prevention], and 4. Patient failure to realize that THEY ARE THE TARGET!  [Tests and screenings look for things suspicious and presenting findings in such a way as to create patient, FEAR!]
Example.  After 20 years of mammogram, medicine finally admits that the cancer prevention rate of women who subject themselves to mammogram is a statistical, ZERO!  So, why do women line up for mammogram? FEAR! And why do men line up for prostate screening? FEAR! How many innocent people suffer and die because what they believe about cancer is simply, not true?   How many people override their instincts and suffer and die needlessly because of IGNORANCE and FEAR?
Either you have cancer, or you do not have cancer!  A pre-cancerous condition is NOT cancer! Positive mammograms and elevated PSA scores and biopsies should NOT be trusted.  The issue is FEAR and the belief that cancer is a disease and the tumor the, problem. Neither is true; both are lies!
Instead of taking an emotional beating and/or undergoing surgery, there are safer and better choices available for those seeking answers, but doctor will never, ever tell you.  Doctor is a captive agent of Big-Pharma and very, misguided. Instead, bet on yourself and never embrace fear and medieval torture.
Doctor believes what was taught in medical school, and the rules of Standard of Care demand doctor's compliance.  Doctor is REQUIRED to treat the patient according to the diagnosis rendered.  Smart patients know to play their GOD CARD and remove themselves from duress, quickly!
Something Is Wrong With The Official Breast Cancer Story
Something is VERY WRONG with the breast cancer story!  In spite of technological advances, breast cancer is on the advance.  It is obvious women do not have the whole story. Far from it!
What does calcium and prevention of osteoporosis have to do with breast, cancer?  EVERYTHING! Women are told to increase calcium supplementation to avoid osteoporosis.  Yet, they are NOT told that calcium feeds breast cancer and does nothing for osteoporosis.  Instead, women are given pink-ribbons.
If experts knew the cause of breast cancer, the epidemic would not be.  Assume doctor has no idea as to cause and the last 68 years of searching for "The cure!" is a disgraceful and a slap in every woman's face!  [Medicine and Big-Pharma are an unholy alliance. They know exactly what is going on and by the time you finish reading this report, you will also, know!]
The experts are either afraid to admit incompetence, lose face, spill the beans and forfeit a pile of money, or they are playing dumb and saving face to maintain their power and keep on making a pile of money.  The patient be damned! [There is more money in looking for "The cure!" than in finding it.]
When Outrageous Is Not Outrageous
Okay, humor me!  Let's go with the seemingly outrageous idea that cancer is a BIG LIE!  And, not just breast cancer, but all cancer, and that cancer is NOT a disease, but a terrain issue?
Calling cancer disease misleads patients!  The word cancer should NOT be interpreted as an adjective and misclassification.  Cancer of the colon, cancer of the breast, cancer of the brain simply tells you where the problem is located.  Instead, we should be asking, "What is cancer? Why does it occur?  From where does it originate?  And when it goes away, where does it go?"  And, the answers are:
CANCER IS A STATE OF SYSTEMIC TAKEOVER BY FUNGAL YEAST, COMPLETE WITH MANIPULATION OF HORMONES DUE TO MYCOTOXIN DOMINANCE!  CANCER DIAGNOSIS AND THERAPY IS KABUKI THEATER WHERE THE ACTORS WHERE WHITE COATS.
TUMORS ARE DEPOSITORIES OF FUNGUS CELLS AND  WHITE BLOOD CELLS.  THEIR DNA IS A CLOSE FACSIMILE OF HUMAN DNA AND THEY CAN [AND DO!] MERGE.  CALLING IT CANCER IS MISLEADING!
TUMORS ARE FUNGAL COLONIES AND THE ULTIMATE TROJAN HORSE BECA– USE OUR IMMUNE SYSTEM INTERPRETS THEM AS "SELF" RATHER THAN FOREIGN ENEMY.   ANTIBIOTICS CA– USE FUNGAL AND HUMAN DNA MERGER, MAKING US HYBRID CREATURES; PART HUMAN, PART FUNGUS. THE PROBLEM AFFECTS THE ENTIRE POPULATION BECA– USE ANTIBIOTICS ARE UBIQUITOUS IN THE FOOD CHAIN AND, OR COURSE, IN MEDICINE.  [READ JILL'S STORY, HERE.]
Now, you understand what cancer IS, and what cancer IS NOT.  A cure for cancer will never be found because cancer is NOT a disease.  Cancer is an inflammatory [autoimmune] condition where fungal molds commandeer the human body as a vehicle to complete their lifecycle.  Antibiotics trigger the process.
Slicing and dicing cancer according to size, shape, type, color and location is futile.  The sick-care folks peddle their shameful story so patients will panic, submit ,and not ask questions for which doctor has no answers.  WHEN YOU HEAR THE FOLLOWING WORDS, RUN! "You have a RARE cancer, but we have promising new procedures that are better, safer and so much, easier.  Your next appointment is….!"
Would you prefer cut, burn or poison?
Once over the shock that accompanies cancer diagnosis, you must assess your options.  And, I do NOT mean seeking a second opinion from Dr. Oncologist [who is always the best in his/her field] or some alternative/conventional cancer center that will "Hold-your-hand and treat you with dignity!"  You are now in a LIFE or death battle and you must choose.  Choose, wisely.
Sometimes, where a tumor is interfering with vital organ function, removal is necessary. But, it is the ancillary, post-treatments that dictates recovery [and NOT in a therapeutic way!
The problem with cancer surgery [and other surgeries] is ANTIBIOTICS, drugs, chemotherapy and radiation.  These things DESTROY what is left of your struggling, already-compromised immune system.
[BTW: the condition called, cancer takes YEARS to develop; it does not come out of nowhere.]  Diagnosis is your wake-up call. So, instead of rolling-over to avoid offending doctor, play your GOD CARD and run!]
Summary Of The Breast Cancer & Osteoporosis Dilemma
The following factors are always in-play with cancer and degenerative disease:
Excess Calcium & Inflammation: cancer is an inflammatory condition.  The factors fueling inflammation must be addressed, and calcium is one of those factors.  Excess calcium can be purged from the body by restoration of osteocalcin metabolism and loading the system with activated mineral ions, reduction of tissue acidity [follow the Terrain pH Protocol which is FREE!], restoration of the intestinal gut wall [which requires endospheric bacteria, NOT probiotics] and resurrection of primal immunity.
[FYI: pill forms of magnesium are poorly absorbed, regardless of type.   Instead, you can achieve up to 95% absorption directly through skin into the blood, capillary beds.  See Ion Trio, here.
Fungal Mycotoxins & Immune Malfunction: infestation by mold, fungus and yeast forfeits control over hormones and immune function due to mycotoxin influence of the vital organs [heart, liver, pancreas, thyroid, bowel/bladder and kidneys.  If fungal control of terrain management is ignored, it is IMPOSSIBLE to restore immune function to primal levels. To learn more about the process, see the Mold & Fungus Protocol and the Immune Protocol.
Dysfunctional Thyroid Metabolism: hypothyroid and Hashimoto's Thyroiditis are epidemic among the female population.  Thyroid hormone affects every aspect of female metabolism including metabolic rate, menstrual cycle, sexual function, immune system, body weight, skin, hair, temperature and energy.
A poorly functioning thyroid is CENTRAL to breast and prostate cancer and osteoporosis REGARDLESS of test results.  The body stores bio-active iodine in the thyroid, breasts, ovaries, prostate and testicles.  It should come as NO SURPRISE then, that people with compromised systems have a thyroid problem.  To better understand what you can do to assist yourself, check-out the Mold & Fungus Protocol, the Immune Protocol and MetaBolic Complex.
Pre-diabetes:  is a sleeper condition; meaning, contrary to medical folklore, blood sugar levels over 90 is a prediabetic condition that messes with hormone functions and body weight, setting the stage for breast cancer, osteoporosis and degenerative disease, in general.  [Read about it here.]
Solutions
Solutions to health crises are often the same solutions that could have been [and should have been] implemented to avoid the crisis in the first place.  Please understand that disease always involves self-abuse and self-neglect and solutions always involve changes in thinking and lifestyle.
Let's put disease in perspective.  Cancer is a big deal, but so is diabetes.  Cardiovascular issues are killers, arthritis is crippling and kidney problems are deadly.  Decide that you want to be healthy and then, do your part. Your body responds according to your choices.
If you are not willing to bet on yourself [and the wonderful body God provided you], then have it your way.  But if you want to live, you MUST play your GOD CARD and seek guidance.
KNOW, THE BIGGEST ISSUE CONFRONTING THOSE WITH SERIOUS, MEDICAL CONDITIONS IS: MISGUIDED, HEAVY-HANDED MEDICAL PEOPLE AND IGNORANT, BUT WELL-MEANING, SPO– USES, FRIENDS AND FAMILY.  IT IS YOUR LIFE, AND DON'T FORGET IT!
FOLLOW YOUR INSTINCTS, BELIEVE IN YOURSELF AND BE WILLING TO POLITELY TELL EVERYONE WHO IS WHISPERING IN YOUR EAR TO MIND THEIR OWN BUSINESS!
Conclusions
Aging and suffering have no place in anyone's story.  How much are you willing to tolerate?
If you have issues and suffer from poor health, understand that your terrain needs tending, and you need guidance.  Be grateful that guidance is available without cost!
A Better Way
Abundant energy and a pain-free body can be yours.  Special Insights™ from Young Again Club helps you enjoy a better life.
Each issue of Special Insights is a chapter in my NEW BOOK by the same title.  They are FREE to everyone; forward them as you wish, and if you want family or a friend to receive them, simply provide their name and email address by clicking here.
If you have not read Young Again! you should.  If you would like a copy of the book, click here.
Personalize Your Program
Young Again Club members enjoy personalized service and programs designed for each individual.  To learn more, click here.
If you found this information interesting, forward to a friend.

To access all issues of Special Insights, click
here
.
To Good Health,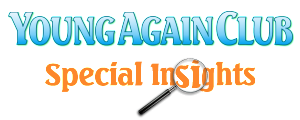 John Thomas, Author
Young Again!
509-465-4154